The Multi-Asset Buy Side: Overkill, or Table Stakes?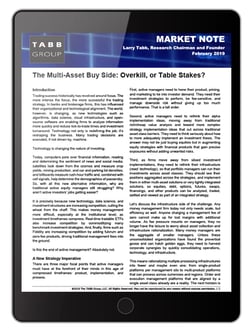 The investment management world is changing. New technologies such as algorithms, data science, cloud infrastructure, and open-source software are enabling firms to analyze information more quickly and reduce tick-to-trade times and investment turnaround. More trading is automated now, from equities, to derivatives, to fixed income.
This has fundamentally changed the world of investing. Download this thought-provoking research paper from veteran market structure analyst Larry Tabb.
What's In This Whitepaper
The future of investment management

What role multi-asset investment strategies will play in performance

How investment managers can succeed in a high-pressure, low-fee environment

And how to adopt technology to position your firm to succeed in the coming years
Download Now
Fill out the form below to access your free copy.