Survey Report: Outsourcing and the Buy Side—Coming Around Again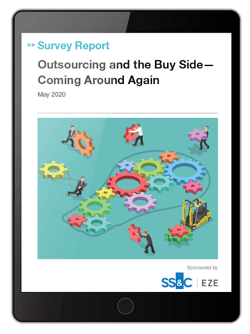 Based on a 13-question quantitative survey, this whitepaper focuses on the motives, challenges and opportunities driving buy-side firms' outsourcing practices. Download the full report to view the results.
What's In This Report
Almost 60% of respondents have existing outsourcing relationships, while nearly one-third are considering outsourcing some parts of their business.
Almost one-third of respondents that already outsource some functions are looking to outsource additional processes to a specialist third-party provider.
Fund accounting and settlement are the two most popular functions to outsource, while trading and performance attribution are the two functions buyside firms are looking to retain in-house.
80% of respondents are seeking to rationalize the number of outsourcing relationships they have in the interest of simplifying their operational landscapes.
Almost half of respondents cite security concerns as the primary challenge associated with outsourcing.
Download Now
Fill out the form below to access your free copy.