SS&C Eze Named Top 'Best-In-Class' OMS Vendor by Aite-Novarica
Leveraging the Aite Matrix, a proprietary Aite-Novarica Group vendor assessment framework, this Impact Report evaluates the overall competitive position of 16 OMS vendors, focusing on vendor stability, client strength, product features, and client services.
SS&C Eze was named the top 'Best-in-Class' OMS vendor in Aite-Novarica's 2022 Buy-Side OMS Matrix.
The Aite Matrix is a comprehensive proprietary vendor evaluation process designed to provide a holistic analysis of participating vendors and identify market leaders in each evaluated vendor market. By incorporating many aspects of a vendor's essential characteristics for success and growth, including financial and client stability, product features, and customer service, the Aite Matrix provides an actionable guide for market participants looking for viable third-party vendor solutions and services.
The final results of the Aite Matrix recognition are driven by three major factors:
Vendor-provided information based on Aite-Novarica Group's detailed Aite Matrix RFI document
Participating vendors' client reference feedback or feedback that Aite-Novarica Group sourced independently
Analysis based on market knowledge and vendor-provided product demos
To learn more about the Aite-Novarica's report findings, download it here!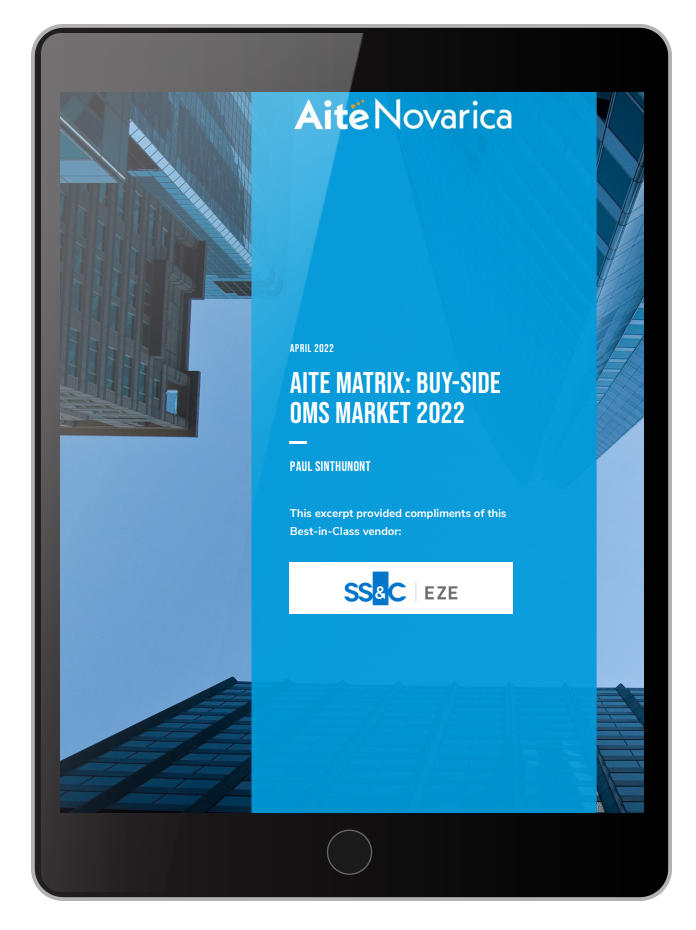 About Aite-Novarica:
Aite-Novarica Group is an advisory firm providing mission-critical insights on technology, regulations, strategy, and operations to hundreds of banks, insurers, payments providers, and investment firms—as well as the technology and service providers that support them. Based in Boston, MA, Aite-Novarica has more than 70 analysts and industry practitioners based in North America and Europe with extensive expertise across all subsectors of the financial services industry.