Eze Marketplace Partner: SteelEye

COMING SOON: SteelEye offers a fully integrated trade surveillance solution that helps firms deal with the additional operational overhead and risk that comes from increasing trade surveillance regulations. Their asset-class agnostic solution provides an out-of-the-box, yet comprehensive, and customizable set of surveillance algorithms that analyze trades and orders for market manipulation, fraud, and generally suspicious activity. The user interface is intuitive, and the algorithms are easy to calibrate, schedule, and run – empowering firms with a robust and tailored trade surveillance system.
Key Benefits
Strengthen risk detection and mitigation programs with forensic testing tools that detect manipulative practices and out-of-the-ordinary behavior

Tailor trade surveillance to specific operating models thanks to a flexible system with configurable and customizable alerts

Empower surveillance teams to spend more time investigating genuine risks and less time sifting through alerts with real-time back testing that allows for fine-tuning and reduces false positives

Improve supervisory oversight and do more with a dynamic, intuitive dashboard that transforms trading activity into rich information that fosters action
Get rapid time to value and a world-class surveillance solution with a plug-and-play integration, self-help calibration and support tools that simplify implementation and ongoing data management



Key Features
Save time and extract maximum value thanks to a truly seamless, plug-and-play integration with your Eze Eclipse or Eze OMS platform

Take advantage of a robust out-of-the-box surveillance package that includes key buy-side surveillance checks like MNPI/Insider Trading, Restricted Lists, Suspicious Activity as well as other trade activity monitoring tools

Reduce total cost of ownership with SteelEye's self-help configuration, calibration, and governance of surveillance checks
Enjoy an intuitive user interface with advanced visualization tools that are complemented by rich market data and news that can be overlayed with trading information

Utilize a fully auditable case manager for investigations, escalations, and legal-hold capability

Get even more out of your SteelEye integration with

additional add-ons available on-demand including Research Calendar Monitoring and more sophisticated algorithms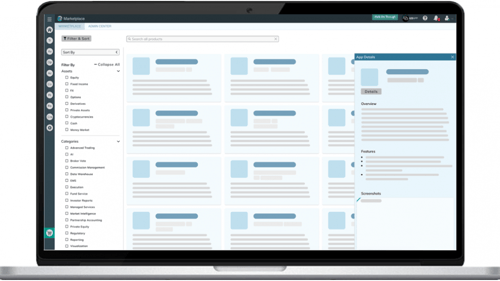 Are You Looking to Become a Marketplace Partner?
Powered by a secure, real-time data sharing architecture, the Eze Marketplace framework enables developers to build solutions that are deeply embedded and interact directly with SS&C Eze platforms. Share your solutions with thousands of buy-side users on Eze Marketplace. Contact us to learn more.