Eze Marketplace Partner: Omega Point

COMING SOON: ​​​​Turn data into decisions. Omega Point makes it easy for investment professionals to harness the world's data and employ sophisticated, data-driven techniques in their investment process. Their open ecosystem enables clients to unlock single-point access to datasets, and an intuitive interface and API enables fast, sophisticated, data-driven decision-making across the organization.
Key Benefits
Identify key drivers of portfolio performance, underlying exposures, & security contributors

Respond to investors with confidence by explaining with clarity the hidden forces that are acting on the portfolio
Access to leading factor datasets and interactive tools that visualize how your portfolio is positioned against current market conditions, monitoring the portfolio's net exposures & risks to these factors
Adopt responsive and repeatable data-driven processes into existing investment workflows, reducing time to answer questions to seconds
Evaluate the risk-adjusted efficiency of your capital deployment for total, sector, and factor bets

Easily overlay factor exposures from leading financial datasets

Access quant-enabled portfolio construction tools, including risk-enabled trade simulations, portfolio rebalance, ETF replacement, and custom basket creation workflows
Key Features
Enjoy interactive asset and portfolio analysis with factor attribution breakdown

Analyze performance and factor exposure as well as risk trends to evaluate how the dynamic interplay of portfolio + market has played out on your portfolio
View portfolio, position, and standalone security level factor trends with out-of-range alerts
Match certain factor characteristics with an interactive screening and research tool that instantly finds new securities
A highly visual interface enables quick communication to investors and clients on how your portfolio has been impacted by any unwanted factor
Intuitive slicing-dicing tools enable analysis and evaluation of any segment in your portfolio as well as instant re-calculations for category/tag analysis
Add an exposure overlay to any security, category, or portfolio
Use a trade simulator to isolate fundamental views by adjusting individual position sizes while receiving instant feedback on the impact of these trades on the portfolio's risk profile
Construct more precise hedge baskets using any target universe & specific criteria to offset targeted exposures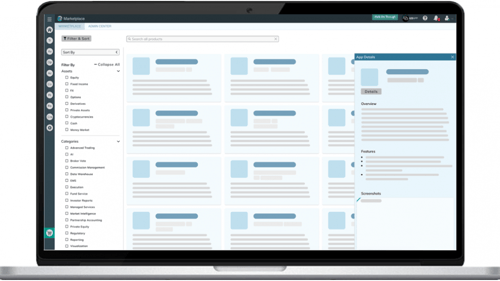 Are You Looking to Become a Marketplace Partner?
Powered by a secure, real-time data sharing architecture, the Eze Marketplace framework enables developers to build solutions that are deeply embedded and interact directly with SS&C Eze platforms. Share your solutions with thousands of buy-side users on Eze Marketplace. Contact us to learn more.