Eze Marketplace Partner: GRMA (FinTech + Advisory)

COMING SOON! GRMA is a leading FinTech + Advisory firm that provides SaaS-based data aggregation, data curation, and outsourced reporting: regulatory, investor, portfolio, performance, risk management, and ESG for asset managers and asset owners. With a diverse suite of solutions, learn more about the one that may work for your firm. 
Key Benefits
The power to handle all types of internal and external reporting 

Aggregate from multiple data sources 

Aggregate all types of public and private investment data 

Regulatory and investor reporting including Form PF and Form ADV

GRMA solutions are a fund expense for many asset managers 

No lengthy implementation process and no technology to build or buy 

Comprehensive portfolio monitoring capabilities 

Enjoy a complete 360-degree view of your entire portfolio 



Solutions
Report-Innovator

 
Report-Innovator is a SaaS-based and outsourced reporting application for both asset managers and asset owners that provides complete and cost-effective turnkey reporting solutions for: portfolio and risk management reporting, performance reporting, regulatory reporting, investor reporting, Board/Investment Committee Reporting and ESG reporting. 
Portfolio-Agg

 
Portfolio-Agg is a SaaS and Cloud-based solution for investment data aggregation, data normalization and data modeling and curated data to support all internal and external reporting. It can also serve as "data middleware" for a wide range of portfolio management, risk management, sales and marketing and accounting applications and systems used by asset managers and asset owners. 
PortfolioView

 
PortfolioView is a SaaS-based dashboard and visualization solution for more efficiently managing investment-related data, and monitoring and visualizing investment portfolio data. This includes coverage for all asset classes—liquid and illiquid. PortfolioView is a superior portfolio management solution for clients that do not need order management and trade execution features.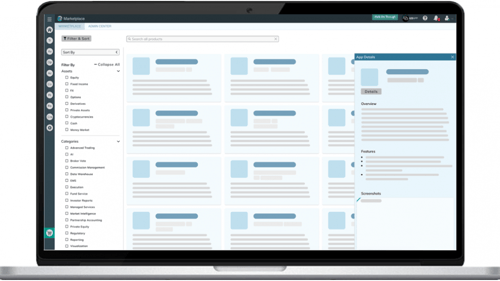 Are You Looking to Become a Marketplace Partner?
Powered by a secure, real-time data sharing architecture, the Eze Marketplace framework enables developers to build solutions that are deeply embedded and interact directly with SS&C Eze platforms. Share your solutions with thousands of buy-side users on Eze Marketplace. Contact us to learn more.