Eze Marketplace Partner: BondCliQ

BondCliQ provides fingertip access to best-in-class, real time, corporate bond quotes and axes, alongside dealer performance rankings, from 40+ participating dealers. BondCliQ's unique dealer protocols significantly improve the quality and reliability of pre-trade data so that users can avoid "socializing" their orders. BondCliQ's applet, the Level 4 LinQ, enhances institutional liquidity by integrating a full CUSIP-level quote book (order book) window as part of users' workflow directly inside your OMS. 
Key Benefits
Gain access to 70,000+ quotes and 17,000+ CUSIPs each day

Evaluate a daily average of 5,300 "3 stacks" (i.e., where 3+ dealers are quoting or axed in an individual CUSIP)

Comprehensive coverage of US corporate bond market with expanding global footprint

Consistently capture daily quote data from 93 of the top 100 CUSIPs traded by volume

Leverage pre-trade data from 40+ contributing dealers

Take advantage of protocols that do not allow for tiering or data fragmentation

Enjoy visibility and access to all dealer prices regardless of whether they are permissioned to trade with them
Key Features
Real-time parsed dealer quotes and axes at the CUSIP level centralized in order book fashion

Numeric dealer rankings displayed based on multiple quote quality and quote consistency metrics

Data partners displayed on Level 4

LinQs

S&P Global (

IHS Markit

):

E

valuated

s

pread

/price and 5yr/10yr CDX levels

ETF Global

:

R

atio of how many of the top 25 credit ETFs (by AUM) currently hold

a given

bond

MSCI: ESG ratings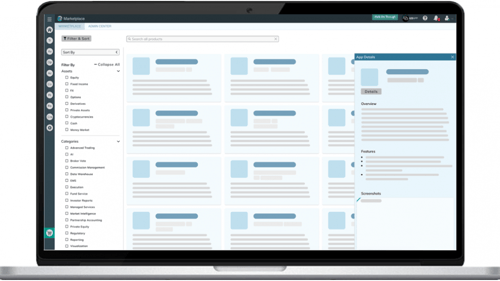 Are You Looking to Become a Marketplace Partner?
Powered by a secure, real-time data sharing architecture, the Eze Marketplace framework enables developers to build solutions that are deeply embedded and interact directly with SS&C Eze platforms. Share your solutions with thousands of buy-side users on Eze Marketplace. Contact us to learn more.