Eze Marketplace Partner: AQMetrics

AQMetrics is a leading provider of Software as a Service (SaaS) and Managed Service solutions to tier-one banks, asset managers, fund administrators and hedge funds.
Their solutions enable simple, reliable, and cost-effective risk management and regulatory compliance through a cloud platform that integrates risk and regulatory solutions, allowing clients to stay compliant with existing and emerging regulations.
Key Benefits
Automation and streamlining of filing process that reduces time and resources required to complete the task
Increased accuracy and completeness of filings which reduce the risk of errors or omissions
Reduced risk of penalties or fines as AQMetrics' team of experts help managers to stay compliant with regulatory requirements. The platform will not allow reports to be filed with validation errors.
Time-saving:  AQMetrics can free up time and resources for managers to focus on core business activities, allowing them to more effectively manage their funds.
Scaling your business: The automated platform allows compliance officers and regulatory officers to scale their funds seamlessly.
Regulatory Reporting
AQMetrics' cloud-based regulatory compliance and risk management platform helps fund managers automate their Form PF, Form 13F, Form ADV, Annex IV, and Form CPO-PQR filings.  They offer end-to-end automated data management, inbuilt regulatory validations, and machine-to-machine submissions. The platform is supported with a managed service where a team of experts can assist managers to meet their compliance and regulatory obligations more efficiently and effectively, freeing up time and resources to focus on core business activities.
MiFID II Transaction Reporting
AQMetrics is authorized by the Financial Conduct Authority (FCA) and the European Securities and Markets Authority (ESMA) as a Data Reporting Service Provider (DRSP). AQMetrics ARM automates t+1 transaction reporting for high volume broker-dealers, venues, OTF/MTF and investment managers across all asset classes.  The AQMetrics ARM integrates with Eze solutions for transaction reporting and connects to NCAs across UK and Europe.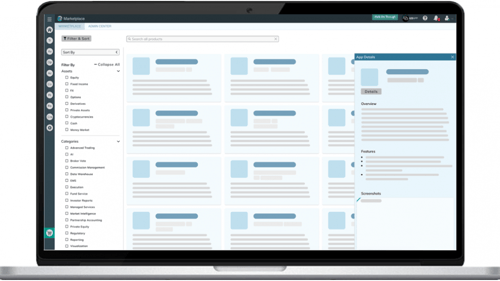 Are You Looking to Become a Marketplace Partner?
Powered by a secure, real-time data sharing architecture, the Eze Marketplace framework enables developers to build solutions that are deeply embedded and interact directly with SS&C Eze platforms. Share your solutions with thousands of buy-side users on Eze Marketplace. Contact us to learn more.