Independent Wealth Managers: Embracing Digital Tools to Enhance their Wealth Proposition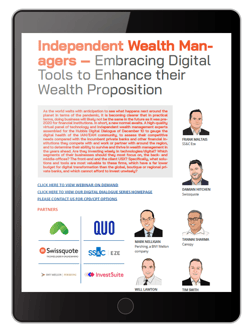 It's become clear to financial institutions that business going forward will not be the same as it was pre-2020. Several technology and independent wealth management experts, including Frank Maltais, Sales Director, ASEAN, for SS&C Eze, assembled recently at the virtual Hubbis Digital Dialogue to gauge the digital health of the IAM/EAM community, assess their competitive needs compared with the incumbent private banks and other financial institutions, and determine their ability to survive and thrive in wealth management in the years ahead.
Download this PDF for coverage of the full discussion.
Download Now
Fill out the form below to access your free copy.