Checklist: Monetary Authority of Singapore (MAS) Digital Acceleration Grant (DAG) Application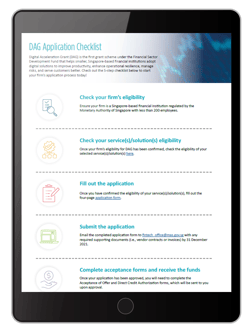 Economies worldwide have experienced the disruptive effects of the Coronavirus pandemic. Singapore's economy, one of the hardest hit in Asia, felt significant effects across industries. The financial sector, like so many others, had to adapt quickly to remain operational and productive.
To assist this sector, the Monetary Authority of Singapore (MAS) introduced a 125 million SGD support package. 35 million of which were designated for strengthening the industry's digitalization and operational efforts through the Digital Acceleration Grant (DAG), which aims to help Singapore-based smaller financial institutions adopt digital solutions to improve productivity, increase efficiency, enhance operational resilience, manage risks, and serve customers better.
Download this checklist for a step-by-step look at the DAG application process, and start your application to receive funds to help subsidize a digital solution for your firm today.
Download Now
Fill out the form below to access your free copy.